Chinese have been known for doing all kind of funny things but there are the most bizarre copycats in the world. They are known for copying everything from the West including technology and culture, starting from Uber to WhatsApp. Chinese have always their own replica of every good thing that is invented from the Western world. But recently they took their replicating abilities so far and started replicating European famous cities. It seems that Chinese figure out that if fusing imitation as well as the experience of travelling to Europe might make up a great idea. So they got to work on creating a European theme in China. But unfortunately all the projects never worked as they had expected. The following are the European cities that have been replicated in Shanghai China.

This is an amazing Hallstatt village found in Australia that is full of historical churches and gabled homes. Currently, the Chinese have created their own Hallstatt Village in China. The village is a perfect replica of the original Australian village with the same houses, churches and roads replica and arrangement.
The Austria's Hallstatt has a rich history that dates back hundreds of years where you can find it recorded in historical books. UNESCO made sure that the village architecture, which makes up the small village is protected by the town. China decided to replicate Hallstatt and built their own in the Guangdong Province back in 2012, but if you happen to visit the city, it has the ancient feel as if you're in the original Hallstatt. The Chinese Minmetals company was responsible for creating some of the homes, decorations as well as the central church building. The project intended to accommodate the wealthy who wanted to get real estates within the original Hallstatt.

As you walk through the streets of Tianducheng with the City lights shinning brighter, you will notice that there are Paris' recognizable apartment complexes as well as Parisian trademark such as the Eiffel Tower. You will have a feeling of being in the city of Paris while the fact is that you will be walking in a Chinese City.
The construction of Tianducheng, which is an area that is located outside Hangzhou, Zheijang Province began way back in 2007 and was completed several years later. The town replicated, with its large scale of the famous Paris City landmarks, Eiffel Tower as well as Haussmann boulevards. But for someone who has ever been in Paris will notice the differences between the Original Paris and this replica. But it is undoubting that the Chinese did a great job in making sure that their Paris replica is identical to the original Paris.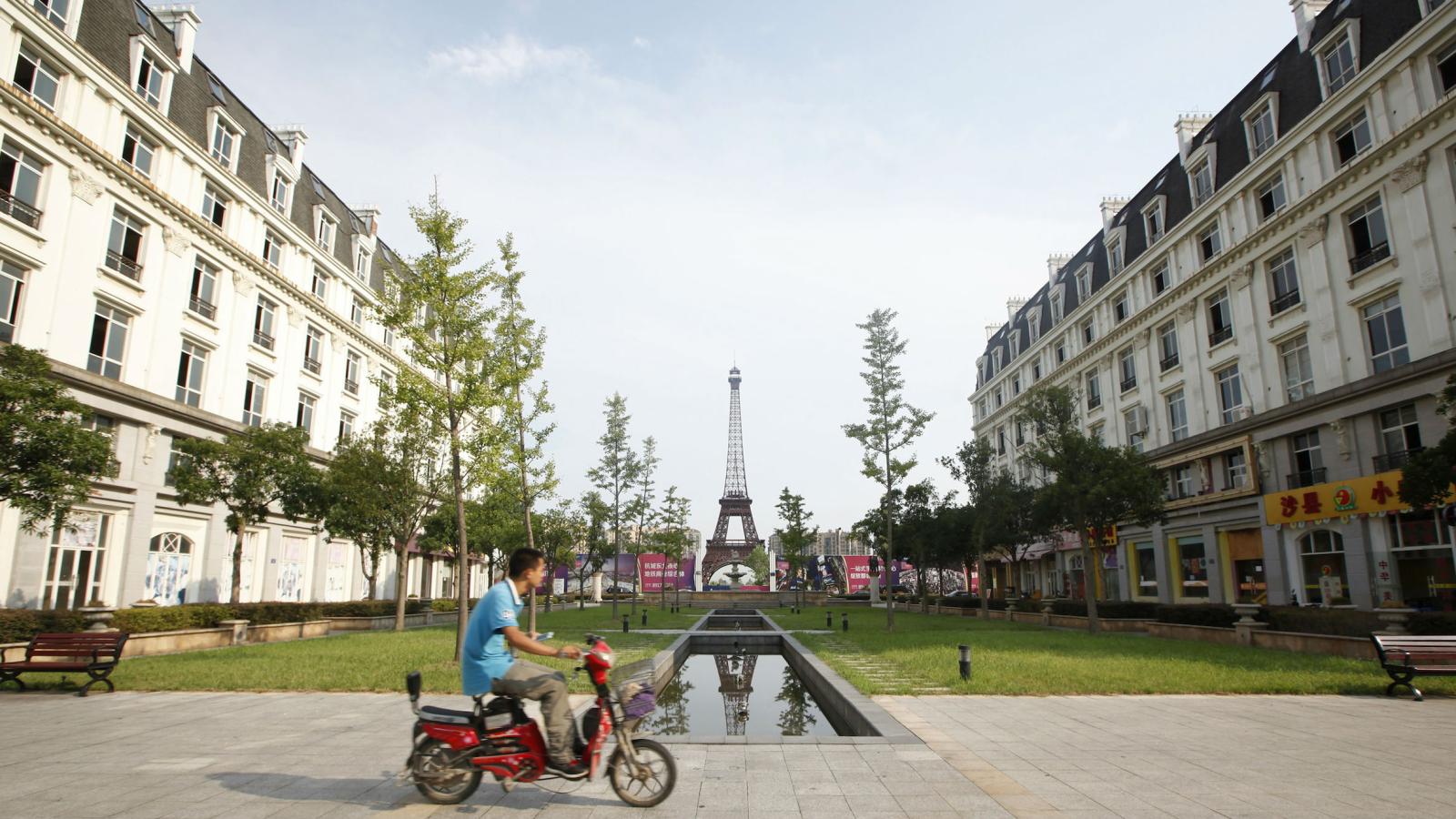 https://qz.com/111262/welcome-to-chinas-beautiful-but-empty-little-paris/
In between the factories and Shanghai's Pilot Free Trade Zone, you will find a famous Holland Village. This among the 11 European theme towns that have been replicated in Shanghai. Chinese developers have made sure that the perfectly replicate the buildings as well as the styling making it similar to the original Holland Village. This is one among the projects that was initiated by the Shanghai Planning Commission which was set up back in 2001 with the name "1 City – 9 Towns". As the previous city replicas, this project failed as it was too far from the city.
The Holland village is built in such a way to look similar to what you may see in the Netherlands. Walking along the main street, the buildings appear to reflect the architectural style of a quaint village in Holland. The town includes canals, windmill, and cobblestones.
But the city is still abandoned and in case you visit the town, you will realize that there are few places that you can eat or drink. The fact is there are no people living in the area except for newlyweds who pop into the town for photo-shoots.
Would like to visit this Holland Village in Pudong? Then this is your chance if you get an opportunity to visit Shanghai, China. You can even come up with a prank and tell your friends that you are in Holland by taking some stunning photos in front of that village's famous windmill replica.

China has went on to import the Swedish sustainable development beringing it in its one of the fastest growing cities in the world. Currently there is a Sweden Town in Luodian, Shanghai. This is Sigtuna and Lake Meilan (the third largest lake in Sweden) and these have been replicated by the Chinese. Luodian construction ended back in 2004 and is a perfect copy of a Scandinavian town. The city construction took six years to finalize.
During its construction, Sweco which is a Swedish architecture company was asked to offer its support in the planning of Luodian. Sweco describes the project as being an export of Swedish sustainable urban development to Shanghai. This replica consists the light, pastel houses that can be found in Scandinavian Cultural Street which are perfect replicas of those that are found in Sigtuna, which is a small town located in the north of Stockholm. Near the Citizen Square you will find a square-shaped church-like tower facing Lake Melaren replica.
The city replica is built on 6.8 square kilometers, and it can hold a population of 30,000 to 50,000 people. It comprises luxury villas, a five star hole, nine hole PGA approved golf course as well as a Nobel Science and Technology Park. The town follows the same pattern of new urbanism having a traditional form without having a traditional function. Besides, within the center of Luodian there is a bell-tower upon the building that has an appearance of the 1950s modernist church. But this is meant for shopping instead of being used for Sunday mass.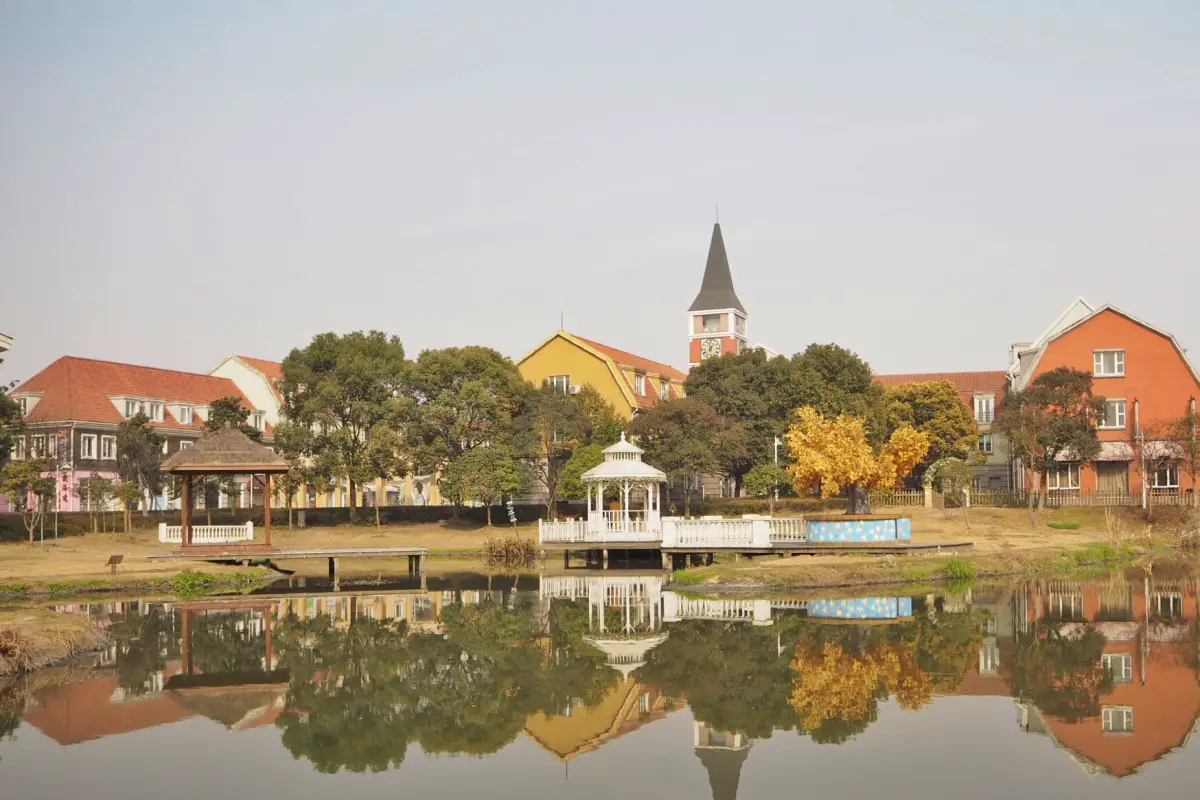 https://emilylouisekugel.wordpress.com/2016/01/18/luodian-a-swedish-inspired-town-in-shanghai/
The Chinese have gone extra miles and built their own humble English village. You will find a Thames Town in China with complete Tudor frontages, corner shops as well as cobbles squares. This replica village is located 30 kilometers from the Central Shanghai.
What will surprise you about this replica of Thames Town, is how the designers and the builders of the town took their time to take every little detail found in the Thames Town to this replica. You see even the red street telephone booths along the streets. If someone was dropped into this replica town, they might think that they are in Britain.
This is one of the 11 cities that have been replicated to attract the wealthy citizens who would like to invest in real estate in the European cities and villages. But this village failed to meet the investor's expectations as with exception to the newlywed couples who drop by for photo shoots, but there are entirely no residents in this replica Village.

Here comes another replica town that is under the concept of "1 City–9 Towns". The Anting German Town was designed by an architecture known as Albert Speer. The town has astonishing colorful three to five-story complexes, canals, green space as well as restaurants.
The German town sits next to a Volkswagen factory on the boarders of Shanghai. The replica has everything which includes parks, housing, fences, canal-side promenades, benches, town squares, roads, office blocks, statues, and there is a church too. But the town lacks one of the major ingredient that makes a city complete, and that is the fact that there are no humans in the city. People were not attracted to live in this Germany replica city.
If you happen to visit the town, you will notice a few newlyweds couples having photo shoots, as well as some of them moving around the streets. It is even hard to find a place to have a meal or drink. The project was a total failure, just like all the other remaining replica cities.
You never know what Chinese are heading too, and we are not sure what will be their next move when it comes to copying. Maybe one day they will make a copy of Mars on earth… who knows what they can do!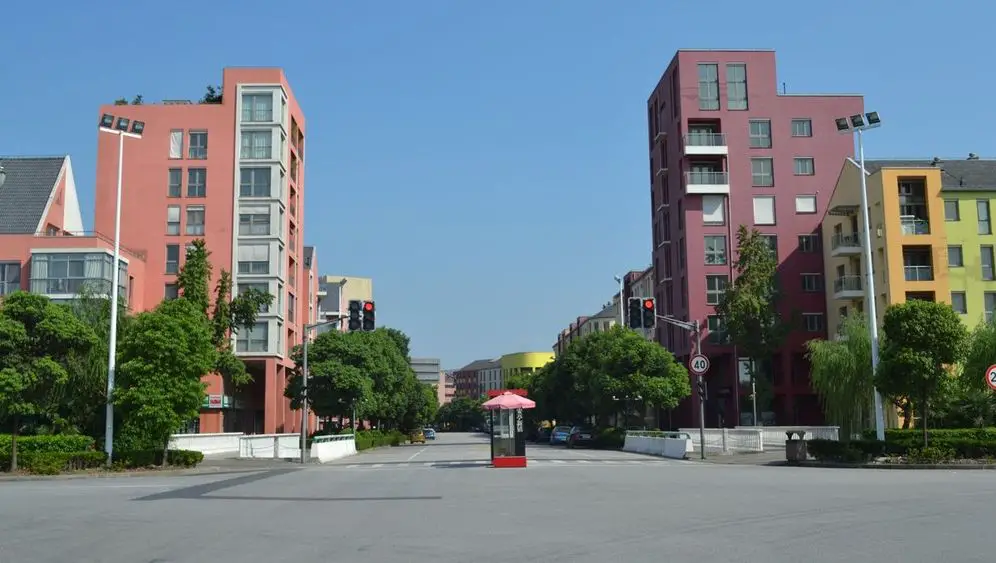 https://www.spiegel.de/international/world/management-disaster-a-german-ghost-town-in-the-heart-of-china-a-791392.html
Pujiang Town which sits on Line 8 in the Town of Minhang, is among the "1 City – 9 Towns" Shanghai project. This is a project which has copied 11 cities of Europe into Shanghai, China aiming at introducing the Western flavor to the Shanghai suburbs.
This is Breeza Citta di Pujiang, as its name entirely shows that this must be an Italian town. The town has an Italian theme, even though when you walk down the streets you will realize that the replica is not as evidently European as compared to the other replicas.
Besides, the city is just a ghost town as there are no residents. Besides, from seeing ghost workers, you can only see a few residents walking around the streets. There is no doubt that Pujiang Town didn't meet the expectations of its investors. But so far it is still a nice place that you can spend your evening if you happen to visit Shanghai.
Pujiang is located conveniently just next to the metro stop, which holds the same name. Due to the fact that there are no residents in the town, there is only a single restaurant which its doors brings in a European café feeling. Besides, there are a number of different bike share stations that are placed throughout the town. So if you feel like your feet are getting tired you can hop on a bike and turn around within the city.
You will also see newlyweds having photo shoots as well as tourists moving around the place in few numbers, taking photos to share with friends and families back home.

Situated within the Wuging district in the Northern part of Tianjin, China, here comes the Florence village which is a perfect copy of an Italian historical town. To build such a perfect replica, a Chinese company invested 2 billion RMB and this is was the first Italian themed outlet that consists of shopping malls. Entertainment, cuisine as well as leisure. If you are among those who fancy exhilarating Italian experience, then you can visit this town which is now considered to be the Florence of China.
The designers went ahead to feature renaissance architecture as well as lavish malls. There are over 200 international lavish brands that can be purchased within the plaza. On its second year of opening during the Golden Week national holiday, the town received over 222,500 visitors. This was a 55.2 percent increase as compared to the previous year.
This Italian replica village is located upon halfway between Tianjin and Beijing, and it will take you just 22 minutes to arrive at the city when you travel using the high-speed railway beginning from the capital. What makes the city more exciting is that there is no need to make a long trip to Europe if you are in China you can get a European touch.
But just like the other ten cities that were replicated, this city is among the ghost towns as there are no residents within the city. Walking around the streets you will see few people and mostly newlyweds taking photoshoot. It is even hard to find a place for meal or drink.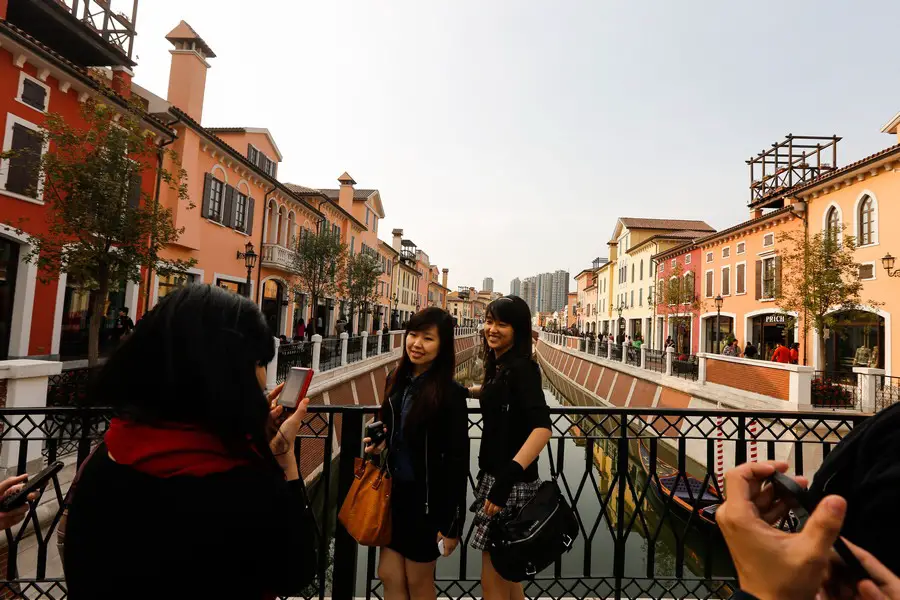 http://www.ecns.cn/visual/hd/2013/10-23/26797.shtml
Moving just beyond Suzhou's modern SIP town you will find what is perhaps the town's perfect replica of one of the world's famous landmarks. This is a remarkable perfect copy of London's Tower Bridge.
The bridge connects a collection of London-styled temporary structures, which is mainly used as a backdrop for taking wedding photo shoots. It includes a red double-decker bus as well as a half hearted replica of the London's South Bank.
The Tower Bridge is so similar to the original bridge at a first glance, but when someone looks so close it reveals that the two towers are different and do not exactly look the same. Taking a deep inspection will once again reveal that the tower is built using cheap materials, having some shoddy looking tower interiors. Looking at the lion statue, you will realize that it is a cross-eyed lion which is entirely different from the Original one.
While around the area, you might also need to visit the replica Dutch town which is situated just on the southwest part of the bridge, or enjoy the tiny replicas of the Sydney Harbour Bridge and the Pont Alexandre III.
In order to get to the London replica bridge, when coming from the SIP just take Metro 2 and head to Xutu Gang; you will have a chance to have a look of the bridge while you are on the train that will be located on your left-hand side. Drop at the station and walk back until you reach the river and then walk along the river to the west to arrive to your destination.

Having a typically grande architectural design, with extravagant marble staircases as well as crystal chandeliers, you would think that you have stumbled upon village in the French countryside.
But this is actually an hotel in the suburbs of Beijing that is built to replicate the Paris famous landmark known as Château de Maisons-Laffitte.
Zhang Yuchen is a Chinese multi-millionaire real-estate developer who finaced the copycat project, that used the original blueprints with 10,000 photos of the building making sure that the exact replica is made.
But Zhang was not entirely satisfied with the original design, so he had to enhance it by adding two more wings as well as an amazing sculpture garden.
The original building was designed by the architecture by the name of François Mansart back in 1651 which has turned to be the French landmark that is located along the Seine River in the northwest Paris suburb.
This building that is known as the Zhang Laffitte costed $50 million and currently as a hotel and a seminar center. According to Mr Zhang the cost shot high due to the improvements that they made as compared to the original design. The site where the building sits used to be a home to wheat fields.
Walking around the hotel you will feel a European theme even though it still misses that touch from the original Château de Maisons which consists of a s mall park that sits on 33 hectares as well as a huge outer park siting on 300 hectares.
This Chinese replica, Zhang Laffitte consists of a hotel, a spa as well as a wine museum.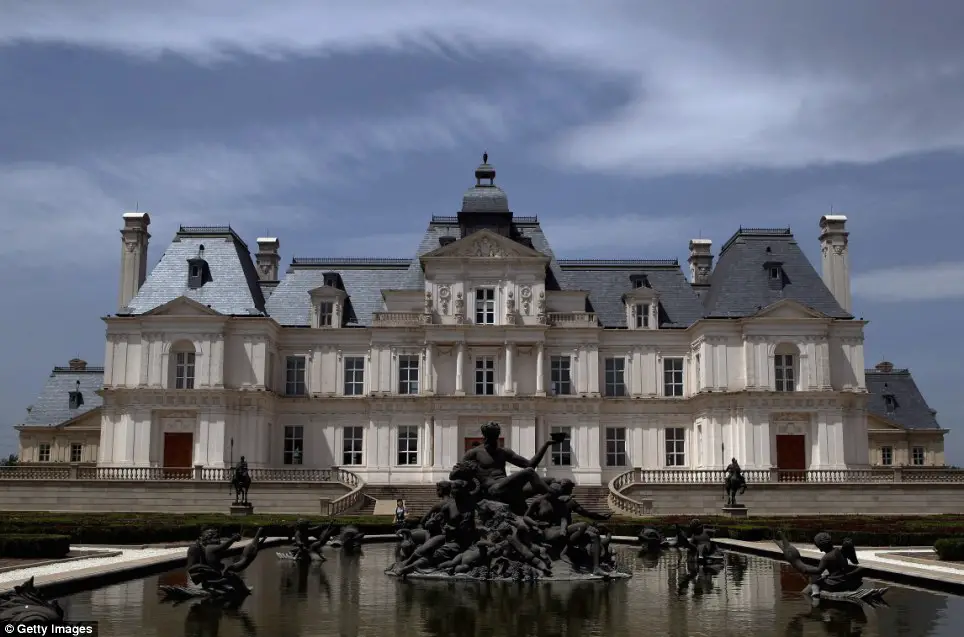 Chinese will never stop amazing us with their ability of copying. We have heard stories that the Chinese are even planning to launch an artificial sun. They have also been caught replicating animals by painting them with color to make them look like zebras and other species. To the Chinese people every major western brand has a replica, starting from cloths, mobile phones, cars, and other gadgets and social networks.
Let us wait and see what will be the next copycat project from the Chinese. It is a matter of time and we might soon be surprised with another project, even though the entire city and villages replicas have turned into ghost towns.
---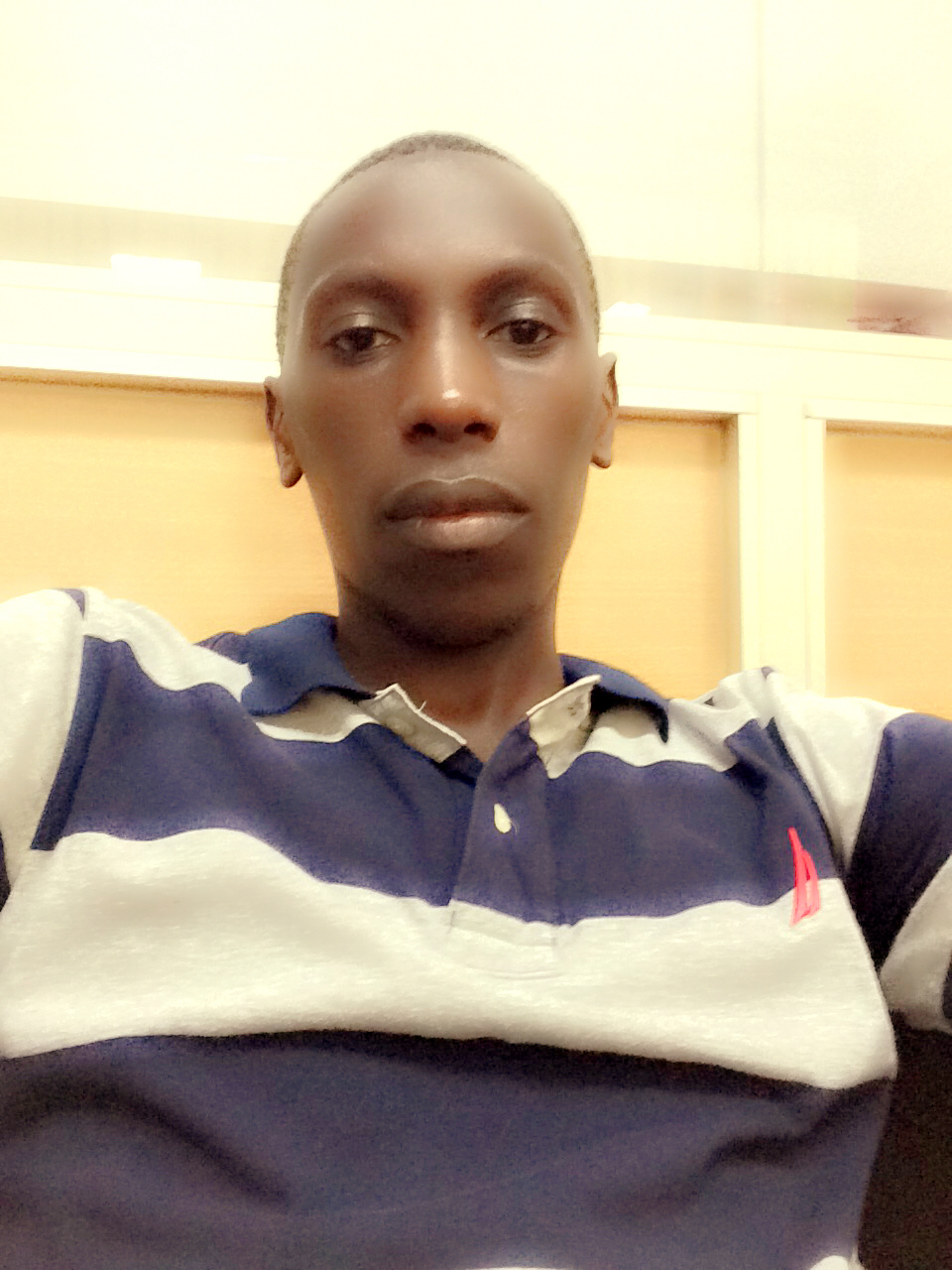 For me travelling is a hobby, and I enjoy writing about the adventures that I discover in my journeys.
---