There are a lot of things that people would argue about, but there is no doubt that no one would argue about the fact that, Ja Rule was the king of the airwaves back in the late '90s and the early '2000s. Making many hit songs and anthems like "Holla Holla" to emotional R&B collaborations with Biggest singers like Jennifer Lopez, Ashanti, and Christina Milian, Ja Rule made hit after hit. But this hey days weren't meant to live forever, after his songs topped every radio chart everywhere from America to Africa.
Ja Rule was signed under Murder Inc. Records. But when the music recording label started facing trouble that made it to come down, Ja Rule's career followed the label all the way and crushed. But that followed after he engaged in a beef with 50cent that ended Ja Rule losing. No only did he lose the beef, but he lost his career and all the people who were connected in his life circle were affected by the beef, including Ashanti.
The world of hip hop as always experienced feuds among hip hop artists where some of them ended claiming lives of the artists involved such as B.I.G and Tupac's beef that claimed both lives. No matter of constant feuds in the hip hop world, but few of them are as long-running or exasperating as compared to the ongoing beef between 50 Cent and Ja Rule.
The feud started over twenty years ago back in 1999, and since then the two rappers have been on to each other throats. Their conflict has been going under the hood for the entire time but it resurfaced again at the beginning of last year. This happened when 50 Cent went on to purchase 200 seats for $3000 in Ja Rule concert so that the seats would remain empty during the concert. Initially, Ja Rule seemed to have enjoyed the prank as he was still ppaid off, and it seemed that he did not care where the money had come from. Money is money right?
But this did not last for long as later on Ja Rule was so pissed off and couldn't back off from Cent's actions and since then things got out of hand and the conditions seems to have gotten extremely tense than ever before. Their fans have experienced back and-forth on social media where it has turned out to be a platform of a conflict that had begun in the streets.
But where did it all start?
Back in 199, Ja Rule was robbed at gunpoint while he was in Queens, Southside Jamaica the robbers took his chain. He was there to filming his music video. Later on 50 Cent stated that Ja Rule was furious after he came to see Fiddy at a club accompanied by the man that had robbed him.
In his 2005 biography entitled "From Pieces to Weight", 50 Cent said that one of his friends robbed Ja Rule for a chain, and a man called Brown came and got that chain and took it back to Ja Rule. Later on, Ja Rule came in one club and noticed that 50 Cent was sitting with the boy that had robbed him. 50 Cent went over to greet Ja Rule and Ja Rule ignored him. 50 Cent added that he was not the one who robbed him, so why did he have a problem with him.
Bu Ja Rule, later on confirmed that the robbery really took place, but denied that he never saw Fiddy with the boy who robbed him. Ja Rule claimed that 50 Cent was mad at him because he had been ignored by the Murder Inc. crew when doing a video shoot for his song titled "Murda 4 Life."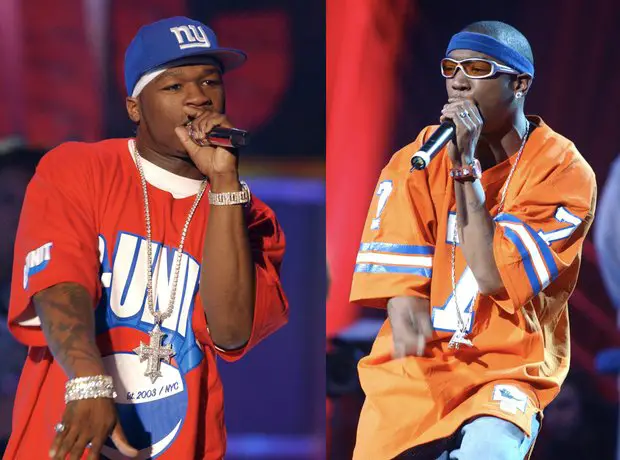 https://www.capitalxtra.com/artists/50-cent/lists/ja-rule-complete-relationship-history/
Back in 2016 in an interview, Chris Gotti shared his take of the source of Ja Rule and 50 Cent's beef, by claiming that it starting during the time when the two were on a one-to-one conversation. Suddenly Ja hit 50 Cent with a number of questions at once. 50 cent that stood up and lashed out. Suddenly Ja Rule allegedly pulled his shirt upon his head and started swinging punches. No matter which side you believe, but all the events must have played a major role to the events that followed.
Then it was on March 2000, Ja Rule and his crew were tipped off that 50 was in a recording session at the Hit Factory studios in NYC. Ja Rule with his entourage decided to pay a visit to the studio. However, the visit never ended well as their encounter ended with Fiddy being stabbed, where Ja Rule and Black Child who as a Murder Inc. rapper got arrested for the crime. Black Child confessed for the stab on record, stating that his action was an act of self-defense. In the interviews that followed, 50 Cents seemed to ignore the incident.
Then 50 Cent released his first hit single titled "Wanksta". The single was released after he had signed a multi-million dollar contract with Shady/Aftermath records back in 2012. Then he went on to collaborate with G-Unit and released a mix tape that was entitled No Mercy, No Fear. 50 Cent credited the song Wanksta to Ja Rule as he was heard stating that he wrote the track after being inspired by Ja Rule. This ended up being his first hit single after peaking at number 13 on the Billboard Hot 100.
Then there were rumors that 50 Cent had signed an order of protection after the event that had happened at the Hit Factory. This rumors spread due to the allegations from Irv Gotti who had claimed that 50 Cent had signed an order of protection that prevented Ja Rule from coming closer to him. Gotti claimed that 50 Cent took the measure to put his street credibility back on line. Later it was confirmed that the order were really issued, but it was not 50 who requested for the order but it was just issued on his behalf as being a formality by the NYPD. Back in June 2018, Ja Rule share the order online and went on to insult 50 Cent by calling him a rat.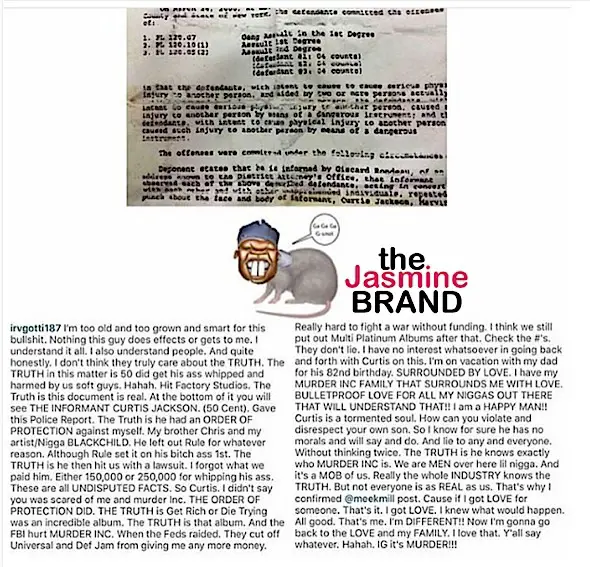 https://thejasminebrand.com/2016/01/23/irv-gotti-calls-50-cent-an-informant-he-caught-a-fade-from-ja-rule-photos/
50 cent seemed to angry after being called a snitch, as he went on to respond to the insult through the G-Unit mixtape titled The Future is Now, where he dissed Murder Inc. in several trucks. Not only did he attack Ja Rule, but he went on to attack Irv Gotti, Black and Cadillac Tah mentioned each one by name in a track titled "I Smell Pu***." It was a brutal attack that no one would have speculated.
50 had just started he went ahead and released a track titled "Back Down," which was on of the trucks in his Debut album titled Get Rich or De Tryin'. The album was a big success and it was released in 6th February 2003. It topped the Billboard 200 albums chart and the album featured a track titled "Black Down," where 50 Cent questioned the street credibility and authenticity of Ja Rule and Murder Inc.
But Ja Rule never let the insult from 50 Cent just pass, as in April 2013, he released what is considered one of the most disrespectful diss tracks in history of hip hop. The track was titled as 'Loose Change' where he fired shots directly to 50 Cent, G-Unit, Dr Dre, Eminem, Eminem's daughter Haile, Chris Lighty, and Busta Rhymes. To date, this is considered being the most disrespectful track as Ja Rule called 50 a snitch, Dre a faggot, claiming that all the men that he had mentioned enjoyed golden showers, while called Eminem a cross-dresser. He then went on to call Eminem's wife a slut. The move led to a major response from 50 Cent, Busta Rhymes, and Eminem where they collaborated to diss Ja Rule on a track named "Hail Mary."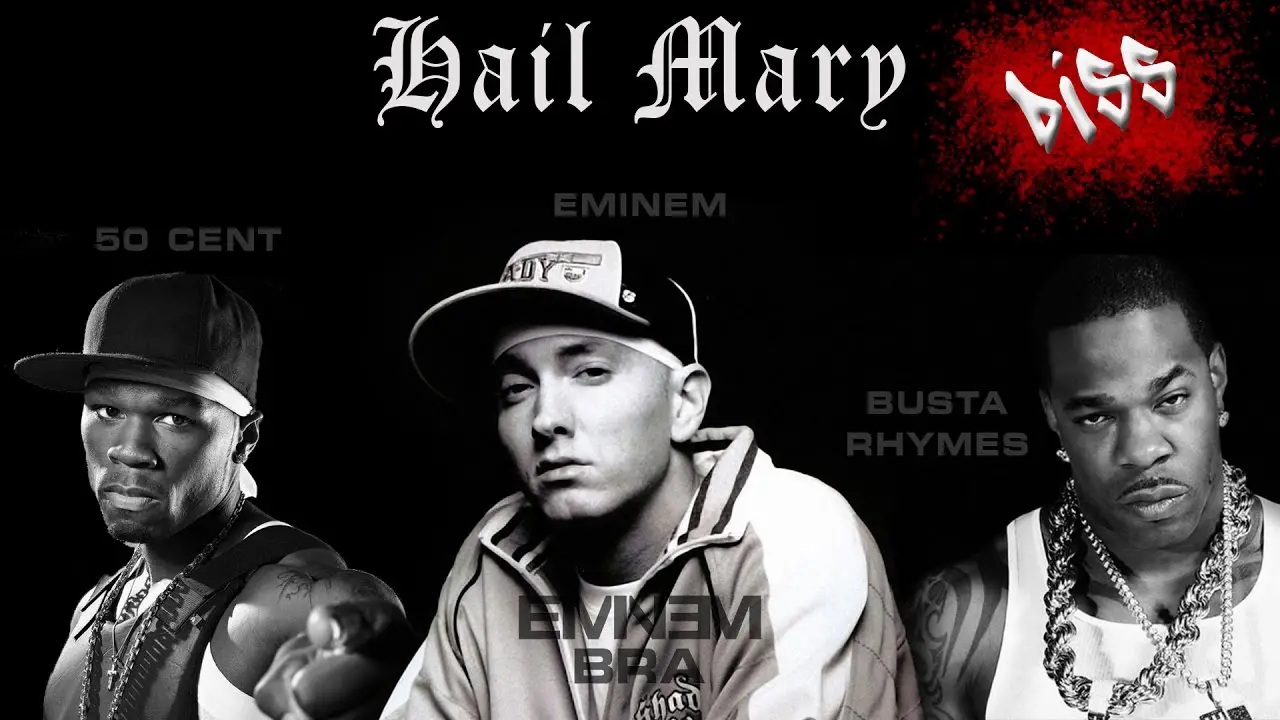 https://www.youtube.com/watch?v=2eexKF7JDTs
Fans thought that Ja Rule's diss track "Loose Change" can never be defeated, but that was not the case as 50 Cent, Eminem, and Busta Rhymes were able to come back with 'Hail Mary' which was a track that mocked Ja Rule has being obsessed with Tupac Shakur. This was a major defeat to Ja Rule and it seemed that he had not speculated of the outcome of his move.
But Ja Rule was not ready to give up, in his fifth studio album that was released back in November 2013, which he made a remarkable transformation in style as he changed from his previous melodic rapping style to a more hardcore style. The album flopped as it failed to reach the success of his former multi-platinum albums.
When having an interview with Hot 97 back in September 2013, Ja Rule admitted that he really thinks that he and the Murder Inc. had been defeated by 50 Cent.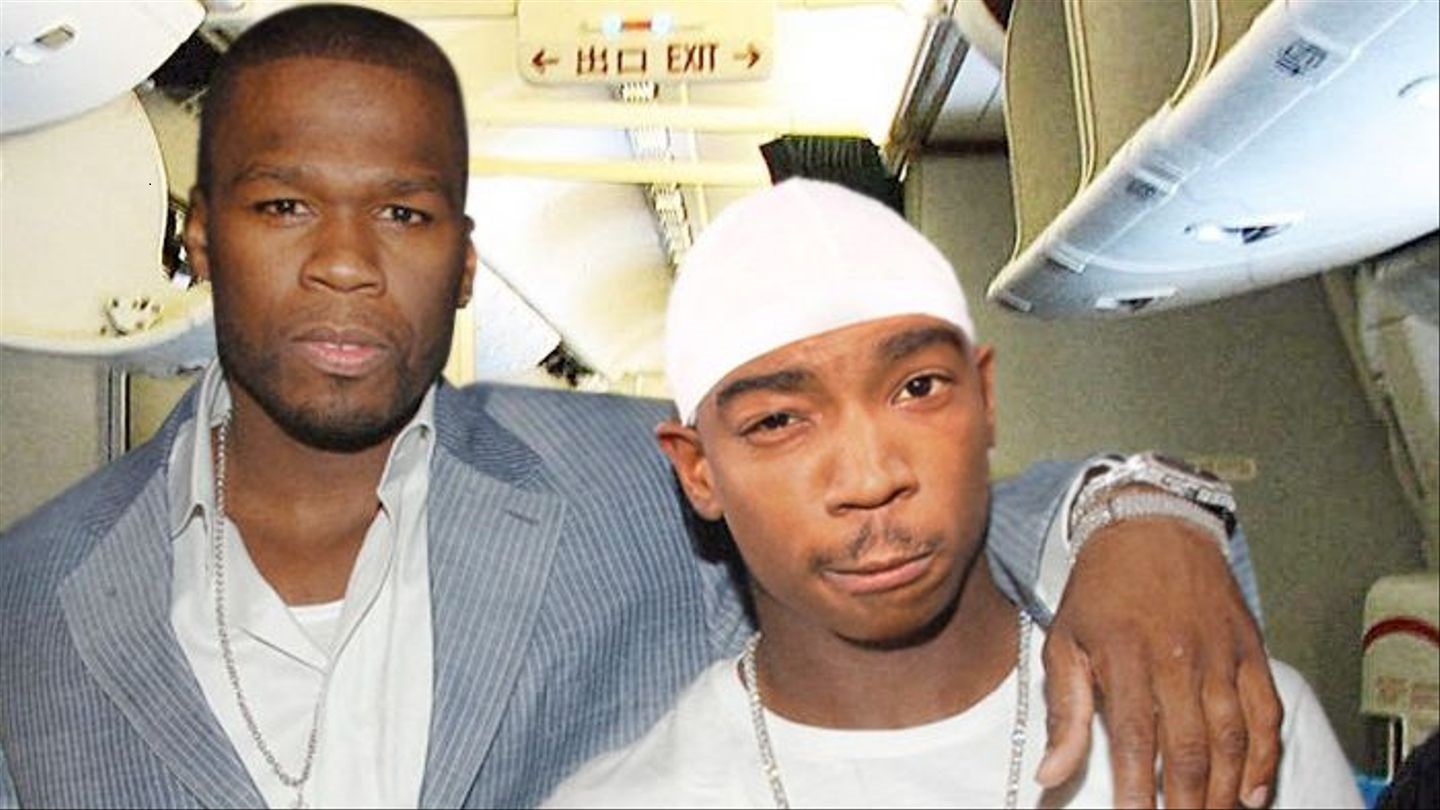 http://www.mtv.com/news/1717659/ja-rule-50-cent-plane-ride/
It had been a long since the two rappers had came face to face but fate brought them face to face when they ended up being on the same flight s they both boarded the same aisle. Ja Rule went on to share the moments on his Twitter account, and to the fans surprise he went on to say that there was no issues between him and 50 Cent.
But the beef was not over yet, as 50 Cent led the 2014 Hot 97 Summer Jam festival, and he did not let the opportunity just slid as he used his stage and once again mocked Murder Inc. while he was performing his diss track titled "I Smell Pu***." When Ja Rule heard about what 50 Cent had done on the stage, he did not fire back he ended up saying that he thinks that Fiddy was obsessed with him.
Back in 2014, Ja Rule releases a memoir titled "Unruly: The Highs and Lows Of Becoming a Man." In his memoir Ja Rule narrated how he rose to fame and the events that followed after being on top. In one of the chapter, Ja Rule claimed that it was 50 who had released the information that led to a federal investigation the affected Murder Inc., whereas 50 Cent has always denied such allegations.
Despite the fact that Ja Rule had claimed that feud had ended to that point, 50 Cent never stop mocking Ja Rule whenever he thought it was right. He went on by sharing a photo of Donald Trump appointing Ja Rule as being a secretary of festivals. This came after Ja Rule was blasted over his involvement in the Fyre Festival fiasco back in April 2017.
Then came the feud that involved Drake and Meek Mill where they spend the 2015 summer battling with words, which some fans had compared their beef with 50 Cent and Ja Rule. But neither of the two was impressed with the comparison as they both said that neither of the younger stars had anything to do with their feud.
Back in 2018, Ja Rule went on to respond to a 50 Cent interview where the rapper had mocked Ja Rule once again. Ja Rule took it on Twitter where he shared a series of tweets claiming that 50 Cent owed Ja Rule his life, and then he went on to tweet a message that went by, "owned your soul… your [sic] my bit***!"
But the latest of this feud came around when 50 Cent bragged that he had purchased 200 tickets prior to Ja Rule forthcoming show that took place in Las Vegas, with an intention that the concert will have a bunch of empty seats that would embarrass Ja rule.
50 Cent went on to share a photoshopped image of himself sitting in the middle of empty seats on Instagram. The post was accompanied with an edited video that showed Ja Rule performing before the empty seats and venue. But surprisingly Ja Rule seemed to have been amused by the stunt and went on to tweet in responding to the 50 Cent prank: "I get under @50cent skin… I love it!" Ja Rule later went on to share a Photoshopped image that looked as if 50 Cent was wearing a wig and makeup.
Then came a sit on Saturday Night Live that was special for remembering their infamous feud, surprisingly 50 Cent responded to an Instagram comment from Ja Rule, posting that "#PULL UP," and went on to write that the beef was not over, and added that they may take a break but the feud is not over until one of them is dead.
It seems as if 50 Cent has become tired of Ja Rule comments on social media, after Ja Rule had claimed that 50 Cent blocked him after their recent tweets on Twitter.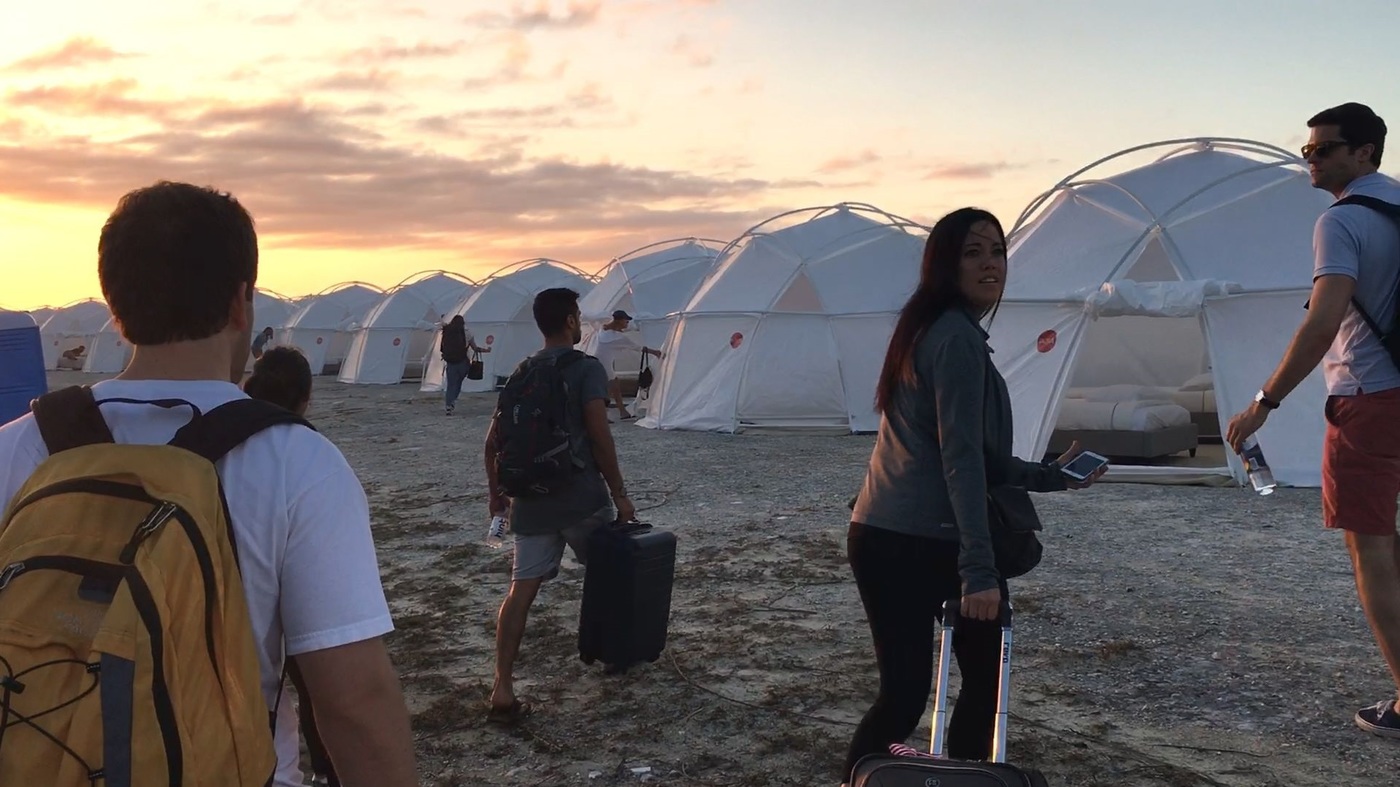 https://www.npr.org/2019/01/13/684887614/fyre-festival-documentary-shows-perception-and-reality-of-infamous-concert-flop
In the beginning of 2017, Ja Rule and his team had organized an event that was known as the Fyre Festival, which eventually ended as being a disaster. Initially the festival was supposed to take place in Bahamas and was going to involve supermodels, tequila, luxury camping, Blink 182, natural beauty as well as exploration of the Bahamas Island which has refreshing elements of the mother Earth. But the festival never took place in Bahamas and instead it was allocated to a different Bahamian Island and the people who had paid for the event ended up hit with a surprise by finding out that the Island was covered by relief tents and it was also dehydrated upon their reach. The event was covered on Twitter in real time and different news outlets and bloggers as well as journalist analyzed what was going on and was supposed to be a part of Netflix and Hulu special Documentaries, but they ended up pulling it off.
Both teams seemed to direct the blame on Instagram users that they lacked the ability to differentiate what is good and what is bad. Some of the Journalists led their focus to the rich kids in particular with their chaotic and self-obsessed characters.
Ja Rule was one of the co-founders of the failed music event, but he was lucky that after the festival he did not receive much attack from the fans and angry social media mass as compared to his fellow co-founder Billy McFarland, who went on to serve a six year sentence for charges that are connected to fraud. Ja Rule went on to tweet that he was not responsible in the failure of the festival. In one of the interviews before McFarland had been imprisoned, Ja Rule said that the idea for Fyre Festival making it as a luxury music festival had turned out to be on of the biggest pop music culture festival. He went on to say that despite the fact that the event failed but he was not ashamed of it as it was such a brilliant idea.
But the Fyre Festival disaster was not done, as it came to hunt Ja Rule in 2019, when he launched a promo on social media about the business which is under his possession, Value Tax. People started mocking him by using the failure of the Fyre Festival and were saying that it is not a good idea to entrust Ja Rule with someone's money, especially when it comes to tax preparation. As it turns out the rapper was sentenced to prison for tax evasion back in 2011, and last year he was still facing tax problems.
---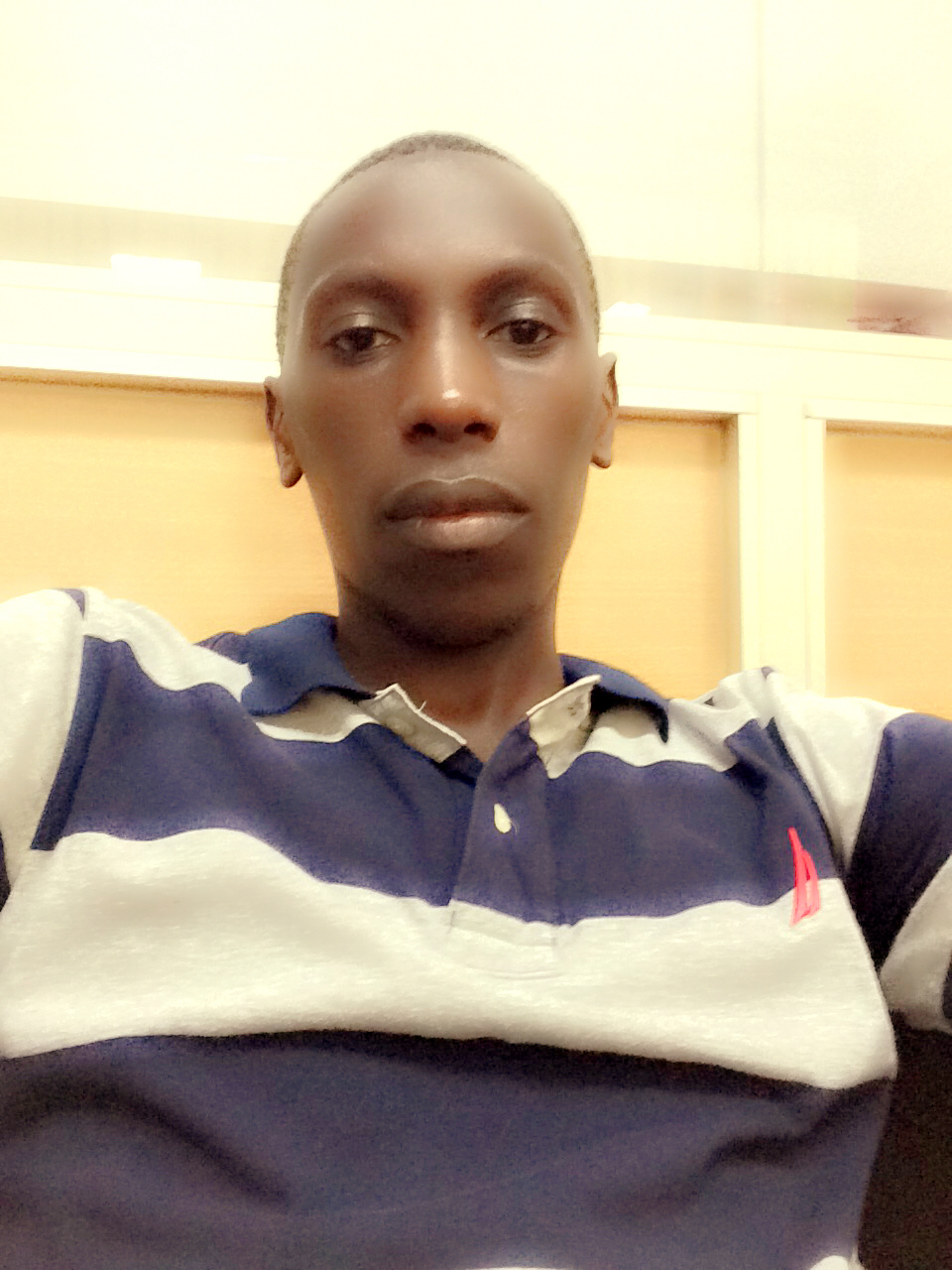 For me travelling is a hobby, and I enjoy writing about the adventures that I discover in my journeys.
---