1. Colin Hanks
Colin Lewes Hanks is an American actor, producer, and director. He is known for starring in films such as King Kong, the Jumanji film series etc. His television credits include Roswell, Band of Brothers, Dexter, Fargo, The Good Guys, and Life in Pieces. He is the eldest son of actor Tom Hanks. Oscar winner Tom Hanks, has been followed in his acting footsteps by his son Colin, who has starred in many films and TV shows.
2. Angelina Jolie
Angelina Jolie, formerly Jolie Pitt, is an American actress, filmmaker, and humanitarian. The recipient of such accolades as an Academy Award and three Golden Globe Awards, she has been named Hollywood's highest-paid actress multiple times. Actor Jon Voight won an Oscar for 1969's film 'Midnight Cowboy'. These days however his daughter, Angelina Jolie, is the most famous one of the two and an Oscar winner as well. Jolie made her screen debut as a child alongside her father, Jon Voight, in Lookin' to Get Out (1982) Jolie`s film career began in earnest a decade later with the low-budget production Cyborg 2 (1993), followed by her first leading role in a major film, Hackers (1995). Her biggest commercial success came with the fantasy picture Maleficent (2014). In the 2010s, Jolie expanded her career into directing, screenwriting, and producing, with the war dramas" In the Land of Blood and Honey "(2011) etc.
3. Rumer Willis
Rumer Glenn Willis is an American actress and singer. She is the eldest daughter of actors Bruce Willis and Demi Moore. She has appeared in films Hostage (2005), Once Upon a Time in Hollywood (2019) etc. She portrayed Gia Mannetti in CBS' teen drama series 90210 (2009–10) and Tory Ash in FOX's musical drama series Empire (2017–18). Willis won season 20 of ABC's dance competition television series Dancing with the Stars. She made her Broadway debut in Chicago as Roxie Hart on September 21, 2015. In 1995, Willis made her film debut alongside her mother in Now and Then. The following year she appeared in Striptease (1996). She has worked with her father twice: in The Whole Nine Yards in 2000 and Hostage in 2005. Rumer worked with her mother at the tender age of 7.
4. Dakota Johnson
Dakota Mayi Johnson is an American actress and model. The daughter of actors Don Johnson and Melanie Griffith, she made her film debut at age ten with a minor appearance in Crazy in Alabama (1999), a dark comedy film starring her mother. Johnson was discouraged from pursuing acting further until she completed high school, after which she began auditioning for roles in Los Angeles. Johnson had her first starring role as Anastasia Steele in the Fifty Shades film series (2015–18). For her performance in the series, she received a BAFTA Rising Star Award nomination in 2016.
5. Moroccan and Monroe Cannon.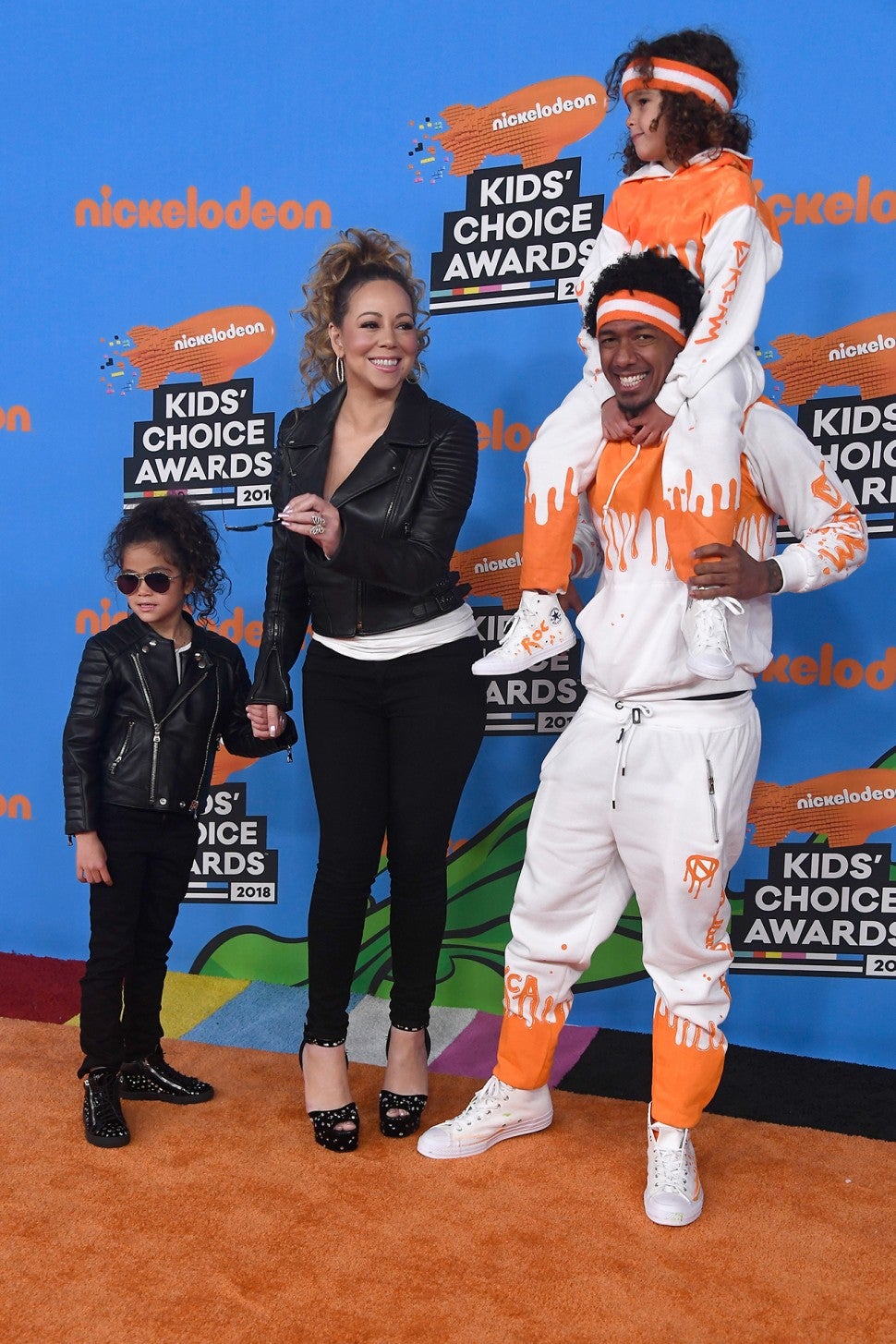 Monroe seems to be her mother's biggest fan. She knows plenty of her mom's songs. Fans are already wondering whether Monroe will want to follow in Mariah's footsteps and become a singer. Mariah loves her kids more than anything, which is why she has even "collaborated" with them on a song. Her 2014 album, "The Elusive Chanteuse", includes a song titled, "Supernatural", and Moroccan and Monroe are both heard singing. It's still said to be one of Carey's favorite tracks on the record. Monroe and Moroccan are no strangers to gracing a stage, having performed with their famous mother on multiple occasions in the past.
6. Kate Hudson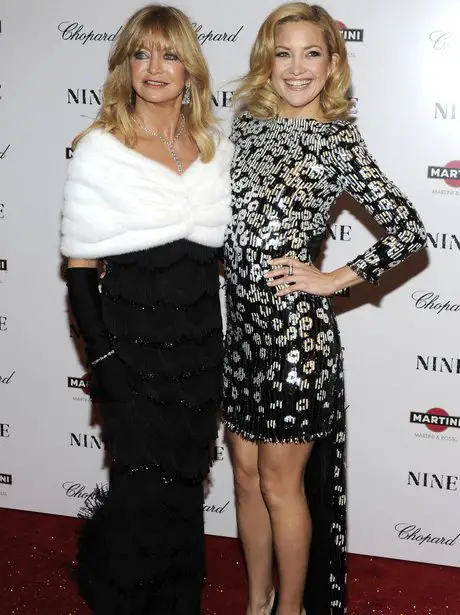 Kate Garry Hudson is an American actress, author, and fashion entrepreneur. She rose to prominence for her performance in the film Almost Famous (2000), for which she won a Golden Globe and was nominated for the Academy Award for Best Supporting Actress. Her other films include How to Lose a Guy in 10 Days, Marshall (2017) etc.

Hudson co-founded the fitness brand and membership program, Fabletics, operated by JustFab. In 2016, Hudson released her first book, Pretty Happy: Healthy Ways to Love Your Body, and in 2017, she released her second book, Pretty Fun: Creating and Celebrating a Lifetime of Tradition. Hudson is the daughter of Academy Award-winning actress Goldie Hawn and Bill Hudson, an actor, comedian, and musician.

7. Kaia Gerber.
Kaia Jordan Gerber is an American model and actress. She is the daughter of Cindy Crawford a super model and Rande Gerber who is a model-turned-businessman. When she was 10, Gerber landed her first modelling gig with Versace's junior line, Young Versace. She made her acting debut at 15 in Sister Cities (2016).Gerber has modeled for magazines such as Vogue,[11] Teen Vogue and Pop Magazine. In 2017 she made her runway debut for Raf Simons's Calvin Klein Collection, then walked for fashion houses such as Marc Jacobs, Burberry, Alexander Wang, Coach, Prada, Chanel, Fendi, Moschino, and Versace, alongside her mother, during 2018 Spring Fashion Week. She landed her first solo Vogue cover on the February 2018 issue of Vogue Paris. Gerber appeared in Spring 2018 campaigns for Versace, Calvin Klein, Marc Jacobs and Omega. In 2018 she and Sofia Mechetner led the campaign for Marc Jacobs's fragrance Daisy.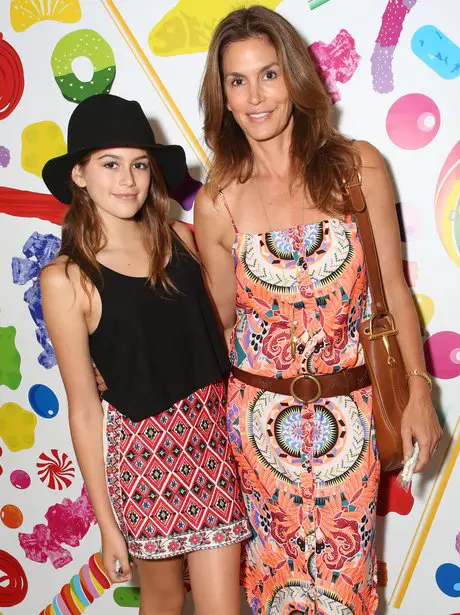 8. Georgia May Jagger.
Georgia May Ayeesha Jagger is an English fashion model and designer. Jagger was born to an American supermodel Jerry Hall and The Rolling Stones lead singer Mick Jagger. Georgia May Jagger too has become a model just like her mother, Jerry Hall. Georgia is one of the faces of Rimmel. In 2014, she appeared in an international campaign for German jewellery concern Thomas Sabo's Glam & Soul and Karma Beads ladies' collections. The basis of the campaign was a short film by photographer Ellen von Unwerth. Jagger has designed collections with Volcom and Mulberry.
9. Sean Lennon and Julian Lennon.
John Charles Julian Lennon is an English singer, musician and photographer, best known as the son of The Beatles member John Lennon and his first wife Cynthia. He was the direct inspiration for three Beatles' songs: "Lucy in the Sky with Diamonds" (1967), "Hey Jude" (1968), and "Good Night" (1968). His parents divorced in 1968.He has produced a number of albums starting with Valotte (1984), as well as a documentary film WhaleDreamers on an environmental theme. Lennon has also held exhibitions of his photography.
Sean Taro Ono Lennon is a British-American musician, songwriter, producer and multi-instrumentalist. He is the son of John Lennon and Yoko Ono. Over the course of his career, he has been a member of the bands Cibo Matto, the Ghost of a Saber Tooth Tiger, the Claypool Lennon Delirium and his parents' group the Plastic Ono Band. He has released two solo albums: Into the Sun (1998) and Friendly Fire (2006). He has produced numerous albums for various artists, including Black Lips, and the Plastic Ono Band.
His parents kick-started his musical career: his debut into the music world came at age five, when he recited a story on his mother's 1981 album, Season of Glass. From childhood into his teen years, Lennon continued to collaborate with his mother, contributing vocals and receiving production credit on her solo albums It's Alright, Star peace and Onobox. At 16 Lennon co-wrote the song "All I Ever Wanted" with Lenny Kravitz for his 1991 album Mama Said, and worked with Kravitz on a cover of his father's "Give Peace a Chance" in protest of the Gulf War. By 1995 Lennon had formed the band IMA (with Sam Koppelman and Timo Ellis) to play alongside his mother on her album Rising. Lennon also made appearances in film, featured in the cast of Michael Jackson's 1988 Moonwalker and portraying a teenager experiencing visions of various M. C. Escher prints in Sony's 1990 promotional short-film Infinite Escher.

10. Vivienne Jolie-Pitt.
Vivienne Jolie-Pitt was born on July 12, 2008 in Nice, Alpes-Maritimes, France as Vivienne Marcheline Jolie-Pitt. She is an actress, known for Maleficent (2014). She is the
Daughter of Angelina Jolie and Brad Pitt. Fraternal twin of brother Knox Leon. Vivienne is open to wearing gender-neutral clothing, like a tan linen two-piece suit back in September 2017 or a blue button-down shirt and jeans at the premiere of Dumbo in 2019.

11. Jennifer Aniston.
Jennifer Joanna Aniston is an American actress, film producer, and businesswoman. The daughter of actors John Aniston and Nancy Dow. 'Friends' star Jennifer Aniston is not the first in her family to be an actor. Her father John Aniston plays Victor Kiriakis in 'Days of Our Lives'.
she began working as an actress at an early age with an uncredited role in the 1987 film Mac and Me. Her first major film role came in the 1993 horror comedy Leprechaun. Since her career grew in the early 1990s, Aniston has been one of the highest-paid actresses in Hollywood.
Aniston rose to international fame portraying Rachel Green on the television sitcom Friends (1994–2004), for which she earned Primetime Emmy, Golden Globe, and Screen Actors Guild awards. The character became widely popular and was described as one of the greatest female characters in American television history. Aniston has since played starring roles in numerous dramas, comedies and romantic comedies. Aniston has been included in numerous magazines' lists of the world's most beautiful women

12. Michael Douglas.
Michael Kirk Douglas is an American actor and producer. He has received numerous accolades, including two Academy Awards, five Golden Globe Awards, a Primetime Emmy Award, the Cecil B. DeMille Award, and the AFI Life Achievement Award. He is the elder son of Kirk Douglas who was an American actor, producer, director, philanthropist, and writer and Diana Dill. Douglas early acting roles included film, stage, and television productions. Apart from his acting career, Douglas has received notice for his humanitarian and political activism, as well as media attention for his marriage to Welsh actress Catherine Zeta-Jones.
13. Charlie Sheen and Emilio Estevez.
'West Wing' actor Martin Sheen has passed on his acting genes to his famous sons Charlie and Emilio Estevez. Emilio Estevez is an American actor. He is a brother of actor Charlie Sheen and son of actor Martin Sheen. Estevez started his career as an actor and is known for being a member of the acting Brat Pack of the 1980s, appearing in The Breakfast Club, the Outsiders etc. He is also known for Bobby (which he also wrote and directed), and his performances in Western films such as Young Guns and its sequel. On the other hand, Carlos Irwin Estevez known professionally as Charlie Sheen, is an American actor. Sheen has appeared in films including The Three Musketeers (1993).
In Spin City, his performance earned him a Golden Globe Award for Best Actor Television Series Musical or Comedy. He then starred in Two and a Half Men, which earned him several Golden Globe and Emmy Award nominations. He most recently starred in the FX comedy series Anger Management, which concluded its 100-episode run in 2014. In 2010, Sheen was the highest-paid actor on television and earned US$1.8 million per episode of Two and a Half Men.

14. Eva Amurri.
Eva Maria Olivia Amurri is an American film and television actress. She was born to an Italian director Franco Amurri and American actress Susan Sarandon. Amurri had a role in the 2002 film The Banger Sisters, in which her mother starred, with Amurri playing the daughter of her mother's character. She guest-starred, along with her mother, on an episode of Friends.
15. Jaden Smith and Willow Smith.
They are the children of actress-musician Jada Pinkett Smith and actor-musician Will Smith.
Jaden Christopher Syre Smith (born July 8, 1998), known mononymously as Jaden, is an American rapper, singer, songwriter, and actor. He is the son of Jada Pinkett Smith and Will Smith. Jaden Smith's first movie role was with his father in the 2006 film The Pursuit of Happyness. He also acted in the 2008 remake of The Day the Earth Stood Still and the 2010 remake of The Karate Kid, and was in the 2013 film After Earth with his father.
Willow Camille Reign Smith, also known mononymously as Willow, is an American singer, songwriter, record producer, and actress. She is the younger sister of Jaden Smith. Smith made her acting debut in 2007 in the film I Am Legend and later appeared in Kit Kittredge: An American Girl alongside Abigail Breslin. She received a Young Artist Award for her performance.
Smith launched her music career in the autumn of 2010 with the release of the singles "Whip My Hair" in 2010 and "21st Century Girl" in 2011, and signed to her current mentor Jay-Z's record label Roc Nation in 2010, becoming the youngest artist signed to the label. "Whip My Hair" peaked at number 11 on the Billboard Hot 100. The video was nominated for Video of the Year at the BET Awards of 2011. She released her debut album, Ardipithecus, on December 11, 2015.

16. Gwyneth Paltrow.
Gwyneth Kate Paltrow is an American actress, singer, author, and businesswoman. She has received numerous accolades for her work, including an Academy Award, a Golden Globe Award, and a Primetime Emmy Award. Her films have grossed $3.3 billion at the U.S. box office and $8.8 billion worldwide.
Paltrow gained very early notice for her work in films such as Seven (1995), Emma the following year etc. She garnered wider critical acclaim for her performance as Viola de Lesseps in the historical romance film Shakespeare in Love (1998) which won her several awards, including the Academy Award for Best Actress.
Gwyneth Paltrow comes from a showbiz family. Her father Bruce was a director and mother Blythe Danner, is an actress who starred in 'Meet The Fockers'.

17. Greer Grammer.
Kandace Greer Grammer is an American actress and former beauty queen. She is best known for her role as Lissa Miller in the hit MTV series Awkward. She was born to actor Kelsey Grammer and make-up artist Barrie Buckner. 'Fraser' star Kelsey Grammer has passed on his acting genes to daughter Greer.
18. Miley Cyrus.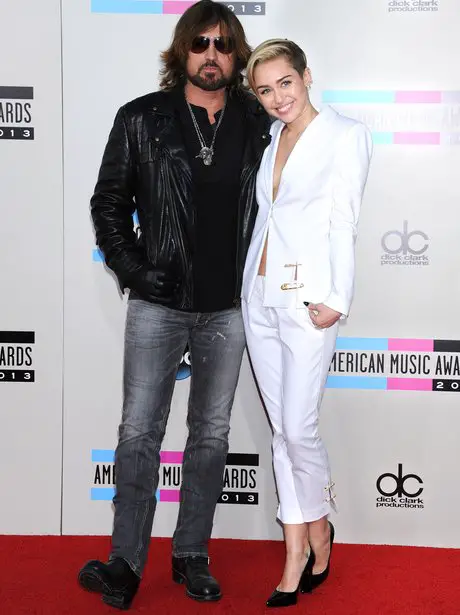 Miley Ray Cyrus (born Destiny Hope Cyrus) is an American singer, songwriter, and actor. Her music has spanned a range of styles, including pop, country pop, and hip hop. Cyrus' personal life, public image, and performances have often sparked controversy and received widespread media coverage. She is widely considered to be one of the most successful entertainers in adulthood who originated as a child star. Among numerous awards and nominations, Cyrus was included on the Time 100 list in both 2008 and 2014, named MTV's Artist of the Year in 2013, and was ranked 62nd on Billboard's Top 125 Artists of All Time list in 2019. Miley is a daughter of Billy Ray Cyrus who is an American singer-songwriter and actor and has released 16 studio albums and 53 singles since 1992. She became a teen idol as the title character of the Disney Channel television series Hannah Montana.
19. Joely Richardson.
Vanessa Redgrave, come from acting aristocracy.
Joely Kim Richardson is an English actress, known for her role as Julia McNamara in the FX drama series Nip/Tuck (2003–10), and Queen Catherine Parr in the Showtime series The Tudors (2010). She has also appeared in films such as the Hollywood film adaptation of The Girl with the Dragon Tattoo (2011) etc. She is the daughter of actress Vanessa Redgrave and director Tony Richardson.

---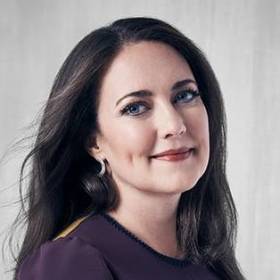 Article writing and rewriting
---